Choosing the perfect flooring for your home isn't just about finding a visually pleasing product. Flooring comes in all kinds of different materials which each have their own pros and cons from cost to comfort, water-resilience to durability and more.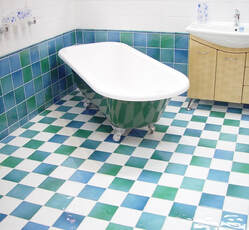 For a quick and easy guide to finding the perfect flooring for your home, follow these 5 simple steps to find the flooring that is right for you.
1. Is your flooring going to be installed in a high-moisture location, such as a bathroom, laundry room or basement?
If you answered no, and moisture is not a restricting factor in your chosen room then your options are fully open!
If you answered yes, then you require a flooring solution that is highly water-resistant and resilient to medium or high moisture such as concrete, ceramic or stone tiles, linoleum or vinyl. Some of the more expensive, upmarket laminate flooring may be suitable for wet areas, although personally, we would recommend vinyl.
Vinyl holds up well in wet spaces, and although it is not 100% waterproof, it is highly durable and can last for many years with little maintenance. It is not only soft underfoot, but it's much quieter than many other hard floor surfaces. Vinyl has come a long way since its origins, and today you can choose from a plethora of designs that range from natural wood looks to funky patterns and everything in between to suit your individual taste.
2. Do you have children, animals or a lot of foot traffic through your home or selected room?
If you answered yes, then you will need a durable flooring – unless you are prepared to replace your flooring in the short-term. Tough, wear-resilient flooring such as plank vinyl flooring, laminate flooring, cork or ceramics are highly dependable flooring options that are easy to sweep, wipe clean of spills and accidents, and can withstand a high volume of foot traffic. Nonetheless, no floor is indestructible and there is always the possibility of scratches, tears, and dents occurring if you're not careful. Carpet can be another option as it is easy to vacuum any mess and provides comfort for you, your children and your fur babies. However, it is difficult to clean up spilled drinks, dropped food, animal urine, remove stains and can sometimes track when withstanding a lot of traffic.
Doesn't everyone want stable, long-lasting flooring though? Yes and no, let's take a lot at number 3.
3. Are you planning on staying in your home short-term?
Flooring is an investment and if you're planning on staying in your home for the long-run then we highly recommend an up-market, luxury brand of flooring which will withstand all that life has to throw on it! However, if you are thinking of relocating in the not too distant future, have young children or young pets, or are installing flooring for a rental property, then a cheaper, easy to replace kind of flooring might be best for you.
Polypropylene is the cheapest carpet option which is often used in rentals as it's easy to clean and does the job, but it can track easily from people coming and going. Nylon is also affordable, though slightly more expensive, though many owners of nylon carpet insist on its reliability. Other affordable materials on the market include cork, tile, vinyl, laminate, and linoleum. You can find bargain flooring which is not only inexpensive but is also low maintenance, durable, maintainable, attractive looking, easy to install and safe if you speak to a reputable flooring company.
4. Are you staying in your home for the long-run?
If so, then be prepared to spend a decent amount of money – after all, you get what you pay for! The more premium the flooring, the more luxurious, long-lasting, high-quality product you will own. Increasing your price range opens up possibilities to the most superior products on the market which are sure to last you a lifetime and truly prove to be an invaluable investment. But of course, not everyone has thousands of dollars in the bank to splash out on exceptional flooring. With the help of an experienced flooring expert, you can find your ideal flooring option at a price that suits you.
5. Do you require your flooring to be low maintenance?
If you do, then vinyl is your best bet as it's easy to clean and doesn't require any specific special care. Dark coloured carpets can also be low maintenance, depending on your particular choice of material. Synthetic or wool carpet are both comparatively more stain resistant than other carpets and hence easier to maintain. Laminate flooring is another option, however, it does require certain distinctive cleaning methods, so make sure you do your research first!
If beautiful flooring is more your cup of tea and you don't mind putting in the hard work, solid hardwood may be the flooring for you. But be warned; high-heels, clawed paws and well-populated areas are high-risk to this stunning choice of wood flooring and you may find that your spectacular centrepiece has to be covered by rugs most of the time to prevent damage.
Whatever flooring you decide on for your home, it is essential that you install it correctly. Whilst it is possible to DIY-it yourself, and it is substantially cheaper, the ultimate finish can be tarnished if not fitted correctly. Choosing a reliable and recognized floor installer is paramount in getting that final, fantastic floor finish look you've always dreamed of.
Here at MeasureUp Flooring, our installers are specialised in carpet, vinyl, laminate, and cork flooring fitting and take pride in their work. We are a locally owned and run flooring and installation business in Kamo, serving both domestic and commercial customers not just here in Whangarei but across wider Northland. We are committed to providing an affordable, quick, easy, professional service which guarantees satisfaction. For more information or a free quote to find the perfect flooring for your home, contact us now!