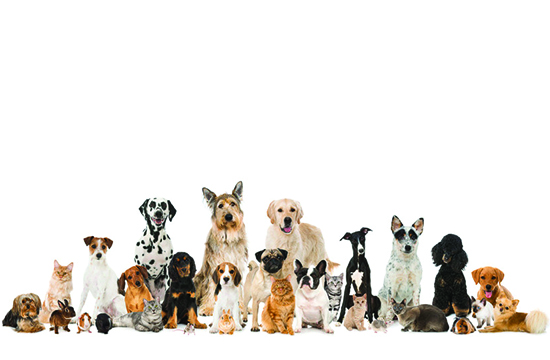 What is the best flooring option for busy paws and sharp claws?
We love our four-legged friends. Countless hours of cuddles and walks, playing games and training. They bring us so much joy, light, and laughter – but when it comes to flooring, our pets play an important role in choosing the right coverage as they have a tremendous impact on the wear and tear of your ground and a 'good boy' can very easily become a 'bad boy' when it comes to claws, dirt, fur, and accidents!
To get the most out of your flooring in your animal-friendly home, we will guide you through the options to help you find the best type of flooring that will withstand the lifestyle and habits of your furry friends.
The four most important concerns for any pet owner looking to spruce up their floor should be;
Is the new floor scratch resistant?
Is the new floor durable?
Is the new floor stain-resistant?
Is the new floor safe for my pet to walk on?
Any pet in the house with claws is inevitably going to cause some degree of marking. A dog may accidentally scratch a wooden floor with her claws, whereas a cat may claw at the carpet and cause tears. Some floors are more scratch-resistant than others, so it's useful to keep this in mind when shopping around. Furthermore, a good, solid, durable floor will more likely stand the test of time with pets who are active around the house. All animals have the occasional accident, so consider ease of mopping up any urine, feces or vomit. Lastly, some floor types are difficult for animals to gain traction on and this can be stressful for our pets to move around.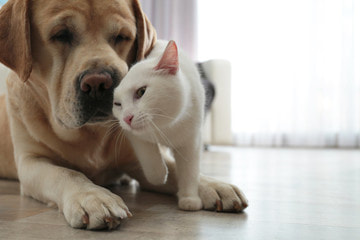 Let's take a look at the various kinds of flooring available, and any pros and cons!
Hardwood
Hardwood flooring is stunning and is a possible option for pet owners because it is easy to sweep or vacuum up fur and dirt. However, real timber has many downsides – not only in general but in particular for homes with pets. Wood is prone to staining and water damage as well as being susceptible to sharp claws.
If your heart is truly set on hardwood, your best bet is to go with an extremely hard hardwood like mahogany, oak or bamboo. Softer hardwoods such as pine, chestnut, and fir, are not recommended for homes with animals.
​To keep your new hardwood floor looking beautiful, you will need to be fully committed to taking great care of it. Urine will stain very easily, and the odour can remain for years to come. It could be worth splashing out some extra cash on special coating for your boards if you do choose hardwood flooring.
Carpet and Carpet Tiles
Carpet is a luxury for both us humans and our pets. Soft and cushiony to walk and lay on, pets love this type of flooring! Contrary to belief, carpets aren't such a big no-no anymore when it comes to pets. New fibre technologies mean that a lot of carpets are now highly stain and odour resistant – although you'd typically expect to spend a decent amount of money for a carpet that is highly pet proof!
Cut pile carpet is your best option of pile because fur and dirt can be hoovered up easily (and the cute pile will not rip due to busy claws). Carpet tiles are super handy – you can always replace an individual section if it gets ruined! However, no carpet is 100% immune to wear and tear so keep this in mind if considering this flooring option.
Cork
Cork flooring is water-resistant and requires little maintenance. This eco-friendly floor covering is warm underfoot and can withstand heavy foot and paw traffic. However, it is not impervious to sharp claws. Despite this, cork is one of the most naturally occurring and renewable resources that copes well with dog and cat inhabitants.
Laminate
You can get the look of hardwood but without the hassle. Laminate mimics a range of materials and offers a much easier cleanup ritual than the real thing, plus the scratches tend to be less noticeable. Choosing a textured laminate floor covering is best for pets as it allows them to gain traction, whereas high-gloss, polished surfaces can be slippery.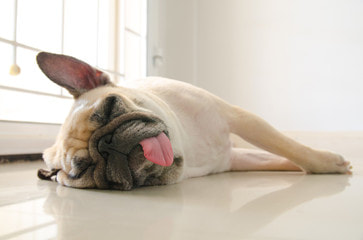 Vinyl
Vinyl flooring is the number 1 choice for the majority of pet owners. It is highly affordable compared with other flooring options and can be installed practically anywhere in the home. It provides excellent traction for your furry friend, is scratch and stain-resistant, durable, easy to clean and comes in a wide variety of designs and styles.
Of course, no floor covering is ever going to stay perfect forever, but there are some useful strategies to keep your floor looking flash for longer.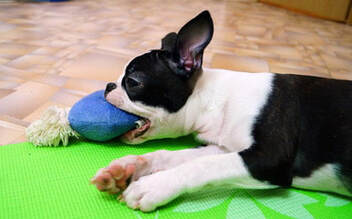 Place food and drink bowls on a mat to catch any spilled water or food.
Clean up any accidents as soon as possible.
Make sure your pets have their own beds and/or a designated play area protected by a blanket to keep them off your new floor as much as possible.
Invest in a scratching post for your cat so that he doesn't sharpen his claws on your lovely new floor.
Clip your pooches nails regularly to prevent scratching.
We hope that this article has been useful in deciding on the right floor for you and your pet! Feel free to contact us for more in depth and personal advise for for you, your pets and your flooring. Let us know in the comments about what you decide to go with and how you and your pet like your new floor! We'd love to see pictures too 🙂