Vinyl flooring can imitate wood, ceramic tile, and stone—or simply display beautiful graphic designs.
The grotesque image of vinyl flooring in my grandparents' home when I was growing-up has always stayed with me; that cheap and tacky wipe-clean, asbestos harboring, sticky texture under your bare feet. Remember that? Well, those days are gone!
That's right, vinyl has come a long way over the years in terms of quality and aesthetics and is becoming the number 1 choice for both homeowners and businesses alike.
​Even though carpet remains the overall cheapest option for flooring, vinyl is growing more in popularity thanks to its durability, low-maintenance, and stylish design. The manufacturers of vinyl flooring keep coming up with new ideas and patterns, which now makes it easier than ever to get that real wood-look flooring without the hassle of real wood timber.
Vinyl now mimics both wood and stone textures almost to perfection, as well as offering a variety of funky patterns and marvelous mosaics to choose from. Whether you are seeking that traditional cosy-home look or modern eye-popping commercial focal point, you're sure to find a vinyl sample to tick all your boxes.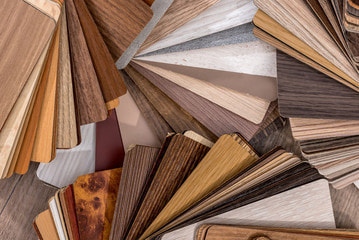 Not only does vinyl flooring now talk-the-talk, but it also walks-the-walk too. For high-traffic areas and places where you're prone to get spills and moisture – rooms such as kitchens, bathrooms, toilets or laundry rooms – then vinyl is perfect as it can handle almost anything you can throw on it!
With no fibres to consider, there are no pesky wine stain dilemmas to deal with or soaked in pet urine to scrub out – accidents on vinyl are easily wiped or mopped away quickly and efficiently with no strenuous drying methods needed! And for those of us with four-legged friends, gone are the days of fighting with ground in dirt, mud, and pet fur; simply sweep away any unwanted hair, fluff, dust or dropped food; hooray!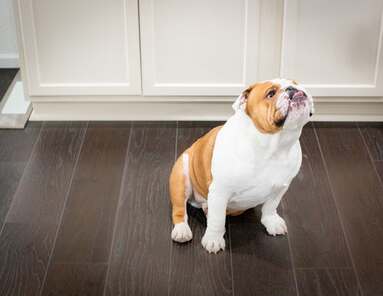 If you happen to scratch, rip or tear your new vinyl, then it's merely a matter of replacing that particular section. This is abundantly cheaper than replacing a carpet or trying to match a new plank of wood, stone slab or tile. This also makes vinyl the ideal flooring for landlords as it is highly cost-effective as well as hard wearing, meaning that this type of flooring can last a multitude of tenants whilst also being easy to maintain.
​Further to the success of vinyl flooring is that it has now become a favourite amongst commercial and industrial properties. The functionality and longevity of this dependable product isn't the only reason why high-street shops, supermarkets, rest-homes, hospitals, airports, schools, offices, gyms (and more!) are opting for vinyl. Vinyl flooring now comes in a catalogue of colours, looks, and styles that range from classic designs to contemporary eccentric fashions all of which create a jaw-dropping wow factor to any space.
So, what's not to love about vinyl flooring?
If you're interested in installing vinyl flooring to your home or business then come and speak to a flooring specialist today to find out about the best brands at affordable prices!
​No matter your flooring preference, here at MeasureUp Flooring we promise to give you honest, reliable advice and work with you from the measure and quote stage, all the way through to the finished installation, ensuring that you are 100% satisfied with the end product.