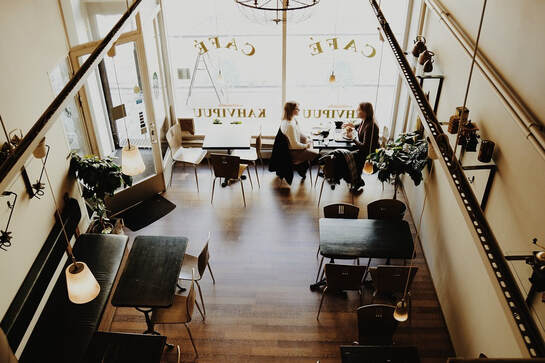 Your flooring selection has a huge impact on your business and should be considered carefully
​Finding the right floor for your hospitality business isn't simply a matter of picking a material and colour and away you go! Your new choice of flooring should be a sound investment that will last you the long haul, and this goes for both the front and back of house. Important factors to consider include durability, safety, water and stain resistance, ease of maintenance, aesthetics, and more.
Safety First
Unlike most domestic spaces, commercial areas need to be slip-resistant and hazard free to reduce the risk of accidents. Trips and falls can be detrimental to a business and could potentially cost millions in damages, so your floor needs to be up to the highest of standards.
We recommend a high performance, non-slip commercial safety vinyl for places such as toilets, kitchens, bars, walkways and dining areas. In any eatery, you are bound to have spills and accidents, so it is paramount that you cover your back with the most slip-resistant flooring out there. Safety flooring meets strict health and safety standards and promises to last a lifetime.
Further consideration must be given to flammability. Carpets are soft, non-slip and do give a homely, cosy feel to any hospitality establishment – however, they are also exceptionally flammable and for that reason, we do not suggest carpet as a suitable floor covering for businesses which have any fire or open-flame features! Carpets are also a magnet for stains, but these days you can purchase high-quality commercial-grade carpets that are tough and stain-resistant. If your heart is set on installing a carpet, then speak to a specialist who will be able to advise you about your particular prospects.
Endurance is a major factor for commercial flooring, so yes, the pricier the product the more premium the product! If you decide on an inferior floor, you might find that your ground cracks or chips due to heavy foot traffic or dropped items. Not only will this cost you extra money in repairs, but it could also potentially cost you in a lawsuit should a customer or member of staff hurt themselves by tripping on a crevice.
Bearing in mind these valuable points, let's take a look at your flooring options.
Laminate
One of the most favoured flooring types for food and hospitality businesses is laminate flooring. Laminate is tough and hard-wearing, coping well with scraping chairs and tables, pounding feet, dropped food and spilled drinks. It's non-slip, allergy-friendly, easy to clean and doesn't fade easily.
Laminate comes in a wide range of designs, from natural wood looks to authentic stone and comes in an array of colours and textures which can add character and warmth to your restaurant, cafe or bar.
Vinyl
Vinyl comes in an expansive variety of styles and effects, either in a roll or as tiles. Similar to laminate, vinyl is non-slip, easy to clean, anti-allergy, and low maintenance.
Vinyl flooring has come a long way and now looks and feels incredibly similar to the product it mimics; wood, slate, marble, herringbone, mosaic or unique art design.
Tiles
Whilst ceramic tiles are beautiful, durable, low maintenance and easy to clean, they can crack if something heavy is dropped on them! Porcelain tiles with high slip resistance are popular for most food and hospitality areas as they're incredibly durable as well as highly scratch, moisture, chip and fade resistant.
Stone flooring is another option for your cafe, restaurant or bar. However, every stone has varying longevity and maintenance needs, so you would need to talk to a stone flooring specialist to discuss your requirements.
Here at MeasureUp Flooring, we are dedicated to finding the right floor for you. Our team of floor experts can help you choose the perfect covering, provide you with a free quote and measure, supply, and install your beautiful new floor.